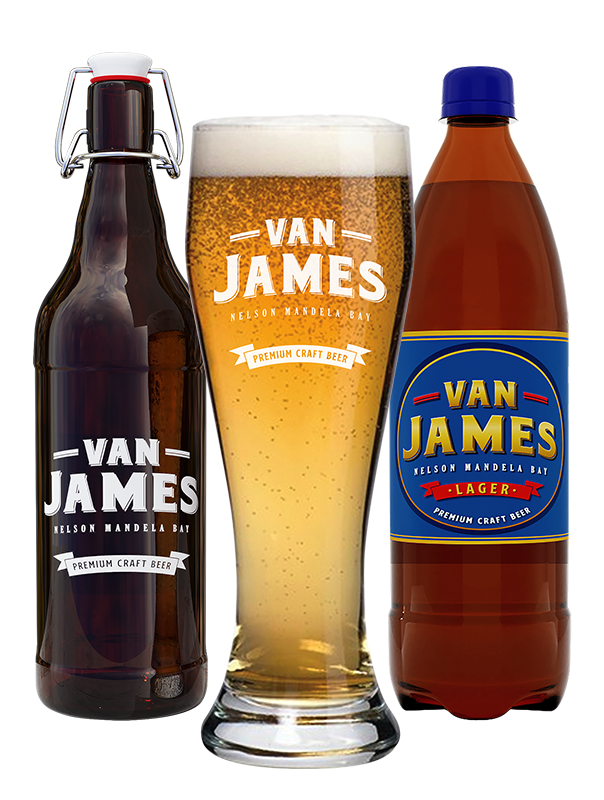 van James Craft Lager
Van James has two founding principles: beer must be great tasting and enjoyably refreshing.
All our ingredients are of the highest quality and carefully chosen. Van James beer has a unique blend of local and international hops. Our brewer has world class brewing equipment and processes.
All this ensures an appearance, aroma and taste unique to van James, an Exceptional Craft Beer.
We have a refill system using 1L and 2L glass growler bottles to ensure the supply of the freshest craft, draught beer. Your first purchase includes the cost of the growler, and thereafter you pay to refill only.
Party keggies, with a gravity-feed tap, are always  a good option when you know it's going to be a long session!
Scroll down to see more
GROWLER REFILL SYSTEM
Refill your growler with fresh, craft draught beer. Our unique filling equipment allows for quicker, foam-free, mess-free better tasting beer. Our process retains the exact environment from the keg to the growler, therefore never allowing the beer to begin to break down. The result is a growler that lasts for weeks versus days. Not only longer lasting, but also superior tasting. By purging the oxygen in the growler and replacing it with CO2 before we fill it with beer, it allows the perfect mix of CO2 saturation. Mixed with air-tight filling, you get a fresher, better tasting growler. The core to the Growler system is all about our passion to deliver the freshest craft beer to go, straight from the keg, ready to be taken home and enjoyed with family and friends.