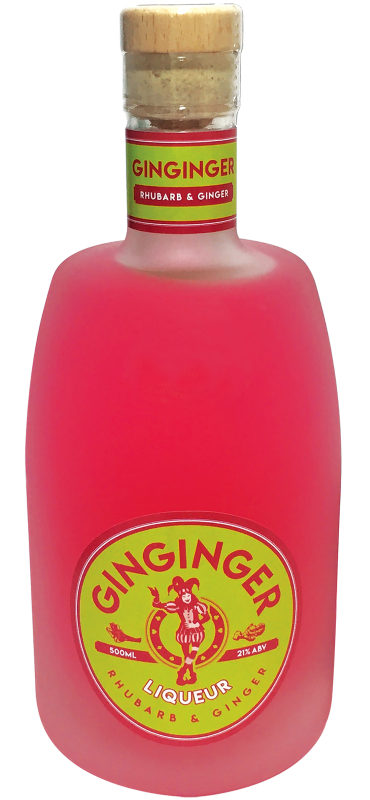 Ginginger Gin Liqueur
Its all about fun, versatility and adventure!
Gin liqueurs, a hot new trend worldwide, are made with distilled gin and suffused with an exciting synergy of fruits or herbs. Ginginger is the first of its kind in South Africa. This feisty craft liqueur is pure indulgence and provides the perfect way to spice things up!
At 21% ABV, GinGinger is light and refreshing with a lower alcohol content than gin. It is available in attractive 500ml frosted bottles and 50ml miniatures.
Like the jester, GinGinger is the life and soul of the party. Fun, exciting and 'out the box', this liqueur bursts with flavour and an element of surprise. Embrace your adventurous side and try it.
6 Delicious flavours to choose from:
Lemon | Cherry Plum | Rhubarb and Ginger | Pineapple and Honey | Rum and Raisin | Nut
Scroll down to see more
How to Drink it
On the rocks
Enjoy some sophistication and get cosy on chilly evenings with warming Rhubarb & Ginger.  Try this sweet and spicy liqueur on its own. Simply pour it over some ice and savour every delectable sip.
As a shooter
Finally – a shooter that tastes good! Liven up the party with a shot of Cherry Plum & Cinnamon. Take this tasty shot to a whole new level by serving it in a da Rocca chocolate shooter cup.
In a cocktail
Get party-ready and embrace your inner diva with a sexy Pineapple & Honey summer cocktail, served in a large wine glass:
Muddle three basil leaves (rolled and sliced into thin strips) and ¼ chopped lime with the handle of a wooden spoon.

Add ¼ cup pineapple or orange juice, ice cubes and a double tot of liqueur.

Top with club soda. Garnish with a slice of pineapple, lime wedge, or a sprig of basil.
As a long drink
For something light and refreshing, mix GinGinger Zesty Citrus Lemon with club soda or sparkling water. Load a tall glass with ice, then pour in one-part gin liqueur to three or four parts sparkling water. Perfect for lazy afternoons at home in the sunshine or for braais with friends.